Dogwood Hills is a beautiful golf course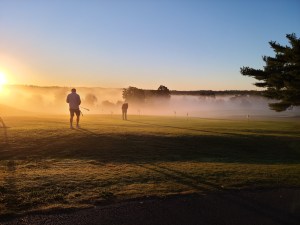 , taking full advantage of the natural topography of the land. I say "natural topography", but in designing and building this lovely golf course, Bryce moved lots of dirt to shape this "natural" layout. The two nines are roughly divided into the front nine "on the hill" and the back "in the valley", with the gorgeous 17th bridging the divide. Water plays an important role in many of the holes, so controlling your ball is key to a good round.
Before his passing, Bryce and two other man did an amazing job of maintaining Dogwood Hills.  Doris is now following in Bryce's footsteps and taking an active role in maintaining the course. The fairways are lush, the greens roll beautifully, and the natural contours of the land do a good job of defending the course. It's short by today's standards… just under 6700 yards from the back tees and 5940 yards from the Whites… but it's a great round of golf. There are 4 or 5 houses scattered around the front nine, and four cabins that are available for rent for golfers who want to stay and enjoy more than just a round of golf. But for the most part the course is simply a golf course. Not the centerpiece of a residential development. And when you play Dogwood Hills, you'll understand why it's considered by those lucky enough to play it to be a very special place, indeed.